Welcome


This is my New Computer. You can see my Old one Here. I built This one after my old one died (motherboard problems), and instead of buying a new motherboard for my PIII I decided to just upgrade to a P4 Motherboard. For which I needed a new Power Supply and Ram, So I decided to just go all out, the only thing I re-used was the Video Card, DVD-drive and Hard Drive.
---
Here is everything I used to build My PC, with prices, in no particular order.... (OK, its actually alphabetical... shhhhh)

---
Case
I Bought my case at A local Computer shop here, I am Still trying to stay away from beige, (ugh!) and this case has some really nice features, such as a slide off panel on both sides, (With a Window) so you dont need screws to get into the case, but with the option of putting Screw's in if you don't want easy entry to the case for some reason. A Window in the side so you can see all the stuff inside, with a fan in the middle that blows out. 4 internal hard drive size bays (who can live with just one hard drive?). And no sharp edges anywhere.
basically this is just a nice (and flashy) case. Here's a pic,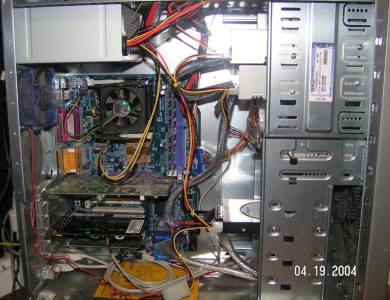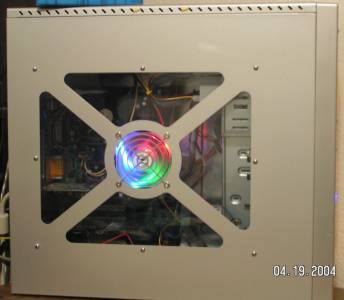 $67.00 US


Back to TOP
DVD
A Aopen DUW1608/12X DVD ReWriter. I paid $65 for it including shipping.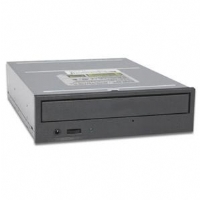 $65 US

Upgraded from:
ASUSTeK CD-RW 52x24x52x
Mitsumi 4804TE CD-RW 4x4x24x
Pioneer 104s Slot load dvd player $145
philips CD-RW 4x4x32x
Back to TOP
Keyboard
I've got a Saitek Eclipse keyboard. I love it because The keys are backlit so I can see them even in the dark.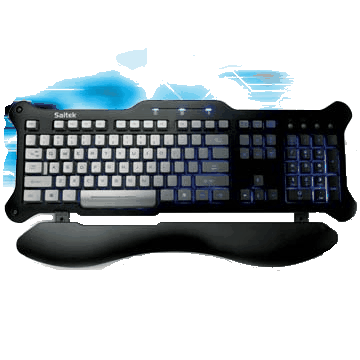 $45 US January 2006

Back to TOP
Hard Drive
My main drive is a Western Digital 320GB 7200RPM SATA drive, along with a Western digital 160GB SATA drive
$75.00 US $110.00 US

Upgraded from:
Maxtor 7500 RPM ata133 40GB $96
Maxtor Diamondmax 7200RPM 20GB $125
Maxtor Diamondmax 5400RPM 13GB ($89)
Quantum Fireball 4.3GB ($?)
Back to TOP
Monitor
19" Samsung SyncMaster 913v LCD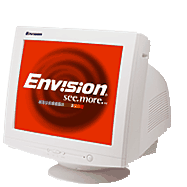 $190.00 US



Upgraded from:
19" Envison EN910E CRT $230
17" CRT
14" CRT
Sony 14" Flat screen CRT
Back to TOP
Motherboard
My motherboard is an Asus P5N-EM HDMI.



$105.00 US

Upgraded from:
DFI PS83BL $108
Gigabyte GA-845PE667 $125
Abit BE6-II $150
INTEL AN430TX oem
Back to TOP

Mouse
My mouse, which Im VERY happy with and HIGHLY recommend is a Microsoft Intellemouse Optical. No more cleaning mouse balls! (hehe) and it has 4 buttons and a wheel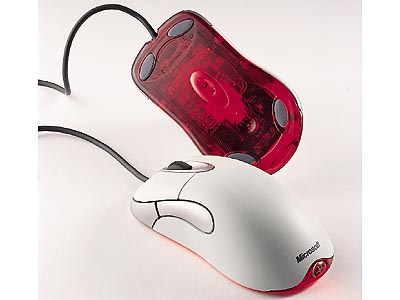 Free from my Wife.

Back to TOP
Network Card
Right now im using my motherboards built in ethernet because my Netgear FA 312 crapped out...


Upgraded from:
Netgear FA 312 $20.00 US
Netgear FA 311 $20.00 US
Its nice to be able to move files between PC,s without using a Floppy, Zip, CD, ect....

Back to TOP
Printer
Cannon i960. This is a great printer for printing photos. It uses the cannon "thinktank" system which has 6 individual ink tanks, Black, Cyan, Photo Cyan, Magenta, Photo Magenta, and Yellow, It prints pictures that look every bit as good as a photo printed from a wal-mart type photo place from my Konica Minolta Dimage Z1 3.2MP digital camera. Its got a separate paper feeder for 4"x6" paper, which it can print edge to edge,

Back to TOP
Processor
My processor is an Intel Pentium 4 2.8GHz 800MHz FSB with hyperthreading.



$130.00 US

Upgraded from:
Pentium 4 2.4Ghz $130
Celeron 1.7Ghz $70
Pentium 3 1100mhz $98
celeron 366@550Mhz $65
PentiumMMX 200@233Mhz ($?)
Pentium 100Mhz ($?)
Back to TOP
RAM
2 Gigabytes of PC2-6400 800 MHz DDR2 Dual Channel Ram

$45.00 US



Upgraded from:
1 GB PC-3200 DDR dual channel $200 Back to TOP
Sound
Sound Blaster Live, pilfered from my wifes Dell PC...

Back to TOP
Speakers
Altec Lansing ACS56 5 Speaker (4.1) Surround sound speaker system. This is a VERY nice setup =)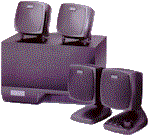 Driver (per satellite): One 3 inch full range driver
Driver (subwoofer): One 6 inch long throw woofer
Frequency Response: 30Hz – 18kHz
Satellite Power: 35 watts
Subwoofer Power: 35 Watts
Input impedence: >10k ohms
S/N Ratio: >65dB
Built in Power Supply Included
ul/cul/CE approved

$149.00 US

Back to TOP

Video
I have an ATI Radion 2600XT 512 MB GDDR3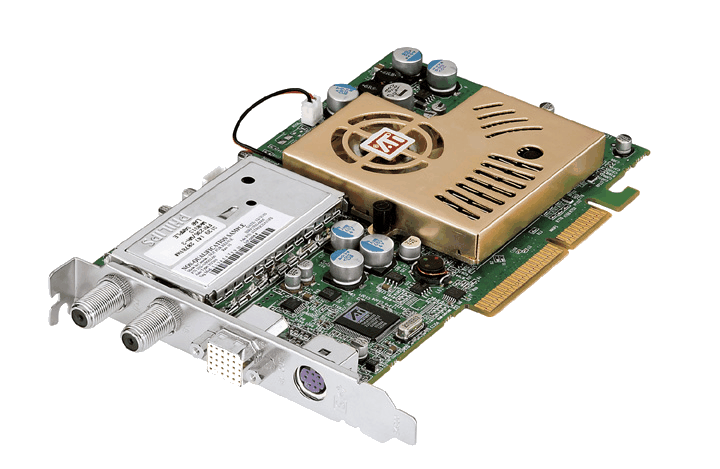 $135 US

Upgraded from:
ATI Radeon 9600XT 128MB All-In-Wonder.$189
ATI Radeon 8500 64MB $280
ATI Expert 128 16MB $109 with 2 voodoo2's in sli mode $180
ATI All-In-Wonder 2MB pci with Voodoo2



Back to TOP
UPS
UPS-uninterruptible Power Supply. A must if you ever experience short power outages. I finally got sick of these frigging half second power outages ruining my gaming, so I went out and got an APC Back-UPS Office 280. Its rated at (supposedly) 11 minutes of power, but I really only got it for short outages.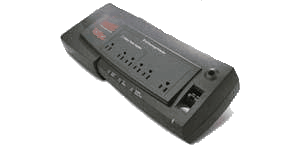 $89.99 US
The pic really doesn't do it justice. This thing is BIG compared to a normal surge protector, its 2.7 inches (6.9 cm) high, 17 inches (43.2 cm) long, 7 inches (17.8 cm) wide, and weighs 8 lbs (3.6 kg)!!
Floppy Drive
Got my floppy DRIVE from my local pc upgrade store for $20.00 US, its an nec. I had one I bought from CompUSA for $30, but I took that one back because it didn't come with any mounting screws.
One odd thing, I had to shave of the tab on my IDE cable (the one meant to prevent you attaching the cable wrong) to get it on the floppy drive the correct way, strange.....
$20.00 US

Back to TOP
Joystick
Micro$oft sidwinder precision pro. $70.00 US

Back to TOP
---
This Website was Hand Coded By Kirk sachs
---