OLD NEWS!
---
---
---
---
---
December 15, 2007



Wow..... OK..... So its been a while....Again... LOL. Since my last update, we bought a house... Its a 2 bedroom 1 bath fixer upper....
---
September 9, 2007



Wow..... OK..... So its been a while.... I keep meaning to update but keep forgetting, and time flies... So anyway... I got a new job, welding at Kydem Machine.. Love it. My wife got a new job, customer service for Jet Blue. We traded in the Jeep and got a Hyundai Santa Fe... I miss the Jeep....
---
February 19, 2007



Couple updates... joke page, blade cx page.... After selling all my RC stuff to move to utah (I apparently forgot to mention that we sold almost everything we had in order to move down here... All we brought is what fit in my truck and the jeep...) I got a new green slow stick (RC plane) for Valentines day. Now all I need is a new radio and some batteries and i can fly it... yay. I also bought a guitar and am trying to learn to play... its harder than it looks...
---
January 11, 2007



Happy New year!!
Better late than never right? Anyhow. Big update, I MOVED BACK TO UTAH! Yay for my team. My wife loves it here so far, (we have been here for about 3 weeks) and my Daughter is in heaven. I think her exact words were "Utah is WAY better than stinky Oregon!!!" Makkela started her new job on tuesday. Today Kyra built a snow cave in a big pile of snow i made for her, She had a blast... Here are some pic's...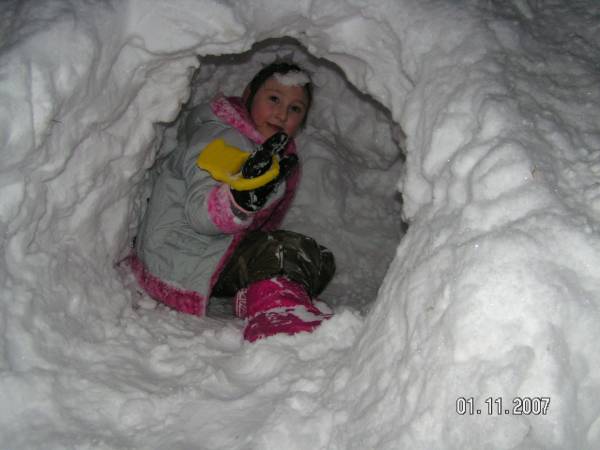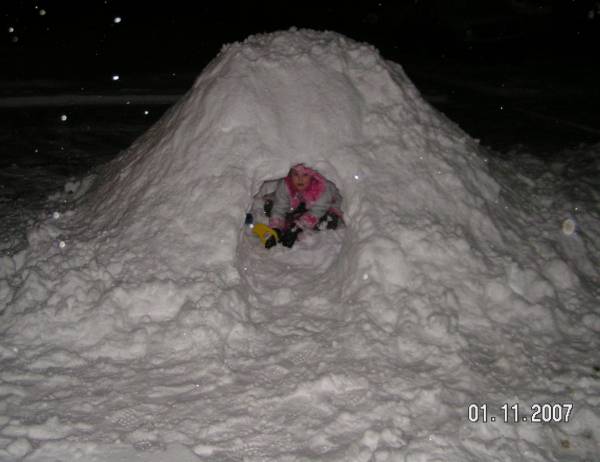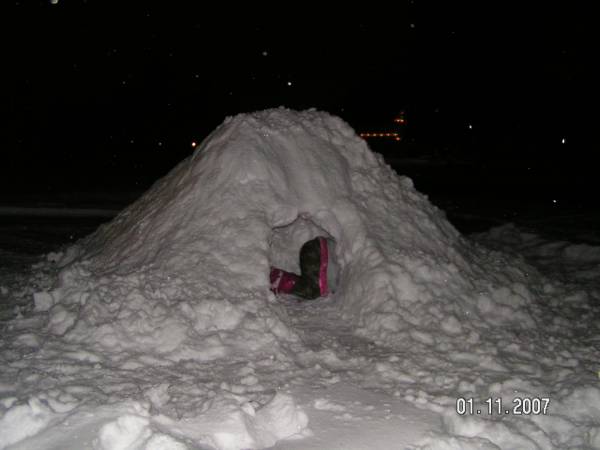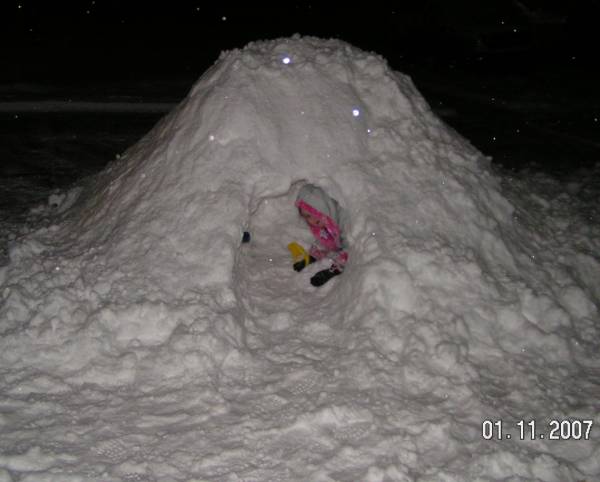 ---
July 29, 2006



I got new wheels and slightly bigger tires on my truck, they make it look a lot better if you ask me.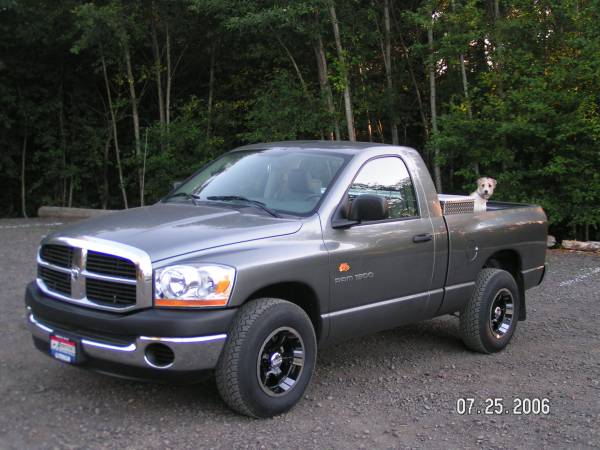 ---
June 27, 2006



Last weekend we drove our Sebring to Eugene, because Kiefer Kia told us they could get us financed in a Kia Sorento, "no problem". We said "If you cant do it, tell us so we don't waist the time and gas driving 2 hours to get there" They said "No Problem". Well, it Turns out that they outright LIED TO US. KIEFER KIA LIES... Well, glad I got that out of my system.... Luckily there is a happy ending to this story.... We happened to stop at a McDonalds and, as usual, the girls were taking forever in the bathroom. So I grabbed a newspaper and sat down at a table. It happened to be the auto's section I grabbed, and I turned the page and see a full page add for Lithia of Eugene. On it they have a Dodge Ram 1500 Discounted to $16,000! (From almost $24,000) It was one of those "6 at this price" type deals so I figure there wont be any there when we get there, but I decided to try anyway. Well, Long story short, despite quite a bit of negative equity in our car which we had only had for a few months, we ended up driving away in a brand new 2006 Dodge Ram 1500 for just a little more than we were paying for our 2004 Sebring, and at only 11% interest (We had 19% on the Sebring, ouch)! Then come Monday we got more good news, they got us financed through the same bank as my jeep is through and dropped the interest rate 2 points to 9%! ... I love my new Truck..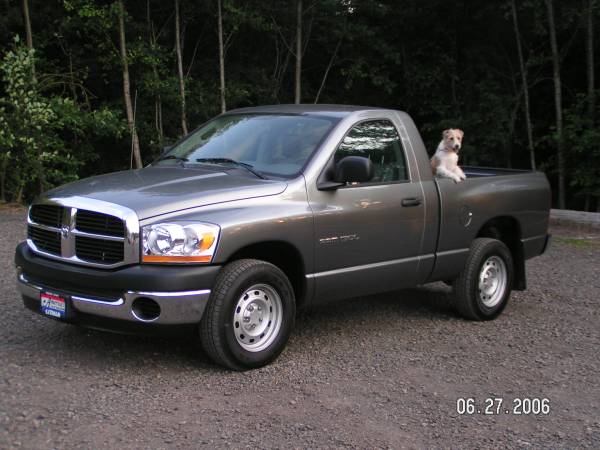 ---
June 15, 2006



Well, 6-6-6 is past and we are still here.... thats good.... lol.
---
December 14, 2005



Look, an update in under 3 months, a new record! HAH, anyhow, My life hmmm, Celebrated my one year wedding aneversary on October 30th, Got a new radio control helicopter (look for it in my toys section if I ever get around to updating it hehe) Thats my christmass present... couldnt wait to open it though...
---
October 19, 2005



Well, Nothing much new to report here, Still working at american bridge. My 1 year Wedding aneversary is on the 30th... I changed my spark plugs tonight.... hmmm
---
July 17, 2005



Well here I am again after a long absence, I Just started a new job last week after 4 years customer service on the phone I just couldn't stand it anymore! So now I work for a company called American Bridge... Guess what we build? Thats right bridges.. Actually we manufacture bridge parts... I have to commute about 45min each way, but Im making more and I work an hour of overtime every day so that pays for the gas. Im going to start working on the "My toys" and "My family" pages on the site so stay tuned...
---
January 13, 2005



Wow one update during 2004, thats just silly... I'll try to do better during 2005.
---
December 06, 2004



Yea Ok so its been a WHILE. Lots of stuff has happened.. Lets see, I got married. (to Makkela) I sold my 92 Cherokee, bought a 92 Wrangler, then sold that... I've decided to go into the army....
and here is how you know your kid needs to get out of the city more, following is a conversation with my daughter...
Daughter: Do they cut big trees to make little christmas trees?
Dad: No, they grow little tree's.
Daughter: But trees need dirt to grow, where do they get all the dirt?
Dad: Dirt if everywhere on the ground sweety:
Daughter: But how do they lift up the sidewalk to plant the seeds in the dirt to grow trees?

---
Sept 18, 2003



Got a new jeep here, this is my 3rd one hehe, this one is a92, there was nothing wrong with the 99 jeep, but my new one is cheaper, or at least it would be if I could sell the 99.... Doh...
---
Mar 16, 2003



Well, Its been a while since I updated, not really my fault, my pc was broken, and I didn't expect it to take this long to "fix" it.... I just got my new computer Up and running, you can see it on the My Computer Page. Anyway, Not a lot has changed with me, Still loving my new jeep, I have only had 2 problems with it. The back hatch stopped opening, that turned out to be simple, I just had to lube the mechanism. The other problem is that the driver side window stopped working, and it was down, and it was raining, and it rained all that week while I was waiting for the part I needed, which cost $108.15, and then as soon as it installed it, it hasn't rained since.... anyway, seems some stupid plastic part (bad design) broke and the cable that rolls it up and down was attached to that part, doh...
---
NOV 21, 2002



Well, today I am driving a grand caravan.... *sigh* After I bought my jeep I noticed a few things, first, as I was switching the wheels/tires between jeeps (old and new) I noticed the front brakes were nearly gone.. So I called the service department where I bought it, they told me all about how "if its at least 3mm they don't change them" and although I didn't think it looked like 3mm, I took his word for it... Then a few days later I was looking under the hood, and noticed the brake fluid was about 1/2" below the "add" line, so of course I called the service department back to make sure the careless technician who forgot to fill it got a "talking to", when the person I reach says "well, according to our records, you jeep didn't go thorough service... I immediately asked for my salesman, who, after talking with the service dept. to ask if it had been serviced, told me they would pay for my gas to bring it in (did I mention I bought the jeep nearly 2 hours from home?) He told me it would take about 2 hours. So we get there, and after waiting 2 1/2 hours, we are told that they have about 4 1/2 hours of work to do (including all 4 brakes) so It wouldn't be ready that day... so here I am with a 2001 Dodge Grand Caravan sitting in front of my house.... I mean don't get me wrong, its nice if you are into that sort of thing... but to bad I'm not.... So now the next day has gone by, and the jeep is still not done.... I think I'm going to cry....
---
NOV 09, 2002



Ah finally something worthy of an update, I got a new Jeep today.. Its a 1999 Cherokee. Power everything, keyless entry, 6 cyl, auto, Its green with a gray interior... will post pics when I have them.
---
Aug 11, 2002



Did you know that one cubic foot of gold weighs 1,200 pounds......
---
July 20, 2002



Well I just replaced my crappy tires, I got some new 255/70/15's and even new wheels..... (about 30x8x15)
---
July 07, 2002



Broke another part on the T-Maxx, this time I guess it was my fault, I was out running with some friends when I spotted a large pile of wood chips, about 5 feet tall, and thought "Hey! That would make a great jump!" so off I went for some big air, unfortunately (or possibly it was fortunate) I wasn't running my best that day, I had just switched from 10% nitro to 20% and was still trying to get the carb settings right, so wasn't able to get the big air I wanted, but it was big enough to break my rear skid plate.... see the damage section for pics.... (not up yet, but should be within a week or so....) I also got myself a Jeep Cherokee... Its a 1985 4WD 2 door 4 cylinder.... I'm going to be getting some 255/60/15 tires in 2 weeks (pay day) That would be about 27x8x15 for those not "in the know" about tires sizes LOL...It is currently shod with some 215/75/15's, (thats about 27.7x5.6x15), and eventually my plans include a 4 inch lift 31x10.5x15 inch tires, a supercharger and a roof mounted spare tire carrier....
---
June 16, 2002



Well, I broke my first part on the T-Maxx, though technically its not my fault, inside the differential there are 4 tiny little screws that hold it together, the screws are fine, but the plastic part they screw into stripped, so the rear wheels no longer turn, and it doesn't do very well in FWD, I think it was probably a manufacturing error, probably didn't get the screws tight enough, so now its going to be a week or so till I can drive the Maxx again... crappy....
---
June 02, 2002



You know, there was a time when I updated this site on a weekly basis, heh... Ah well, I am updating again, working on my new section about my T-Maxx, its a Radio control Gas powered truck....
---
May 5, 2002



Well, I moved again, but only about a mile or 2 away....Just Makkela, Kyra and I. I guess now I know why kids grow up and move into separate houses.... If you are thinking of moving into a house with a sibling, take if from experience, don't do it....
---
February 22, 2002



I'm moving, from coquille,a crappy Podunk town 30-45 min from town, to north bend, about 5 blocks from where I work. and about 5 min from everyplace else, sweet. We move in March 1'st (Me, Makkela, Kyra, Eric, Carma, and Rand. Its a Townhouse, 2 floors, 2 bedrooms and a bath upstairs, 1 small bedroom and a half bath and a kitchen (with a dishwasher) and a dining room and a living room downstairs, plus a fenced yard and a garage, we are so exited...
---
January 31, 2002



Wow, ok, so its been a while eh? Well, my website was down for a while, apparently the machine it was hosted on broke, so they moved my domain but were unable to recover my website, so I had to re-upload it, how crappy... so anyway, A lot has happened in the last few months, I guess... Lets see, I joined earthlink to get a free DVD player, I was amazed, they charged my cc the first charge one day, and I received the DVD player the next! Umm, I'm still dating Makkela... Hmmm, Ok not so much, I guess... hehe....
---
This Website was Hand Coded By Kirk Sachs
---